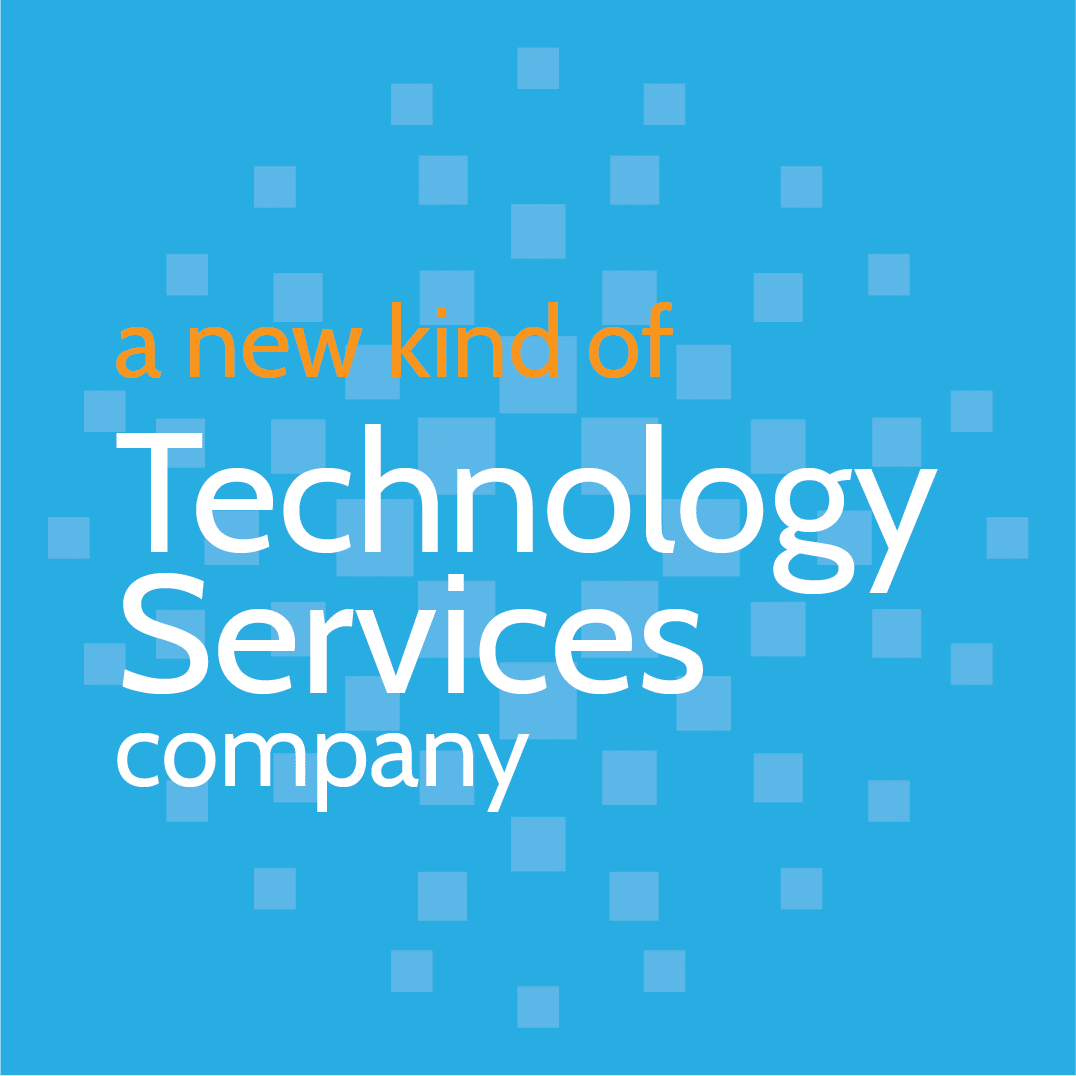 A modern Contact Center solution to ensure your self-service has superior quality of service: Visual Verify & Interactive Voice Response from Telnorm
MODULAR
Visual Verify is a modular solution that monitors services and applications. performs stress tests, sends surveys and analyzes customer's selections in Interactive Voice Response (IVR).
a CLOUD solution
Ideal and effective with no equipment or maintenance policies needed.
Fully customizable
Quickly customize Visual Verify to support your business and unique processes.
Mystery Shopper Methodology
We fully monitor the Interactive Voice Response (IVR) and applications response surpassing compliance challenges.
Mobile Applications verification
Monitoring of mobile applications (IOS/Android) , automation of processes, registration of records in databases.
System Healthcheck
Automated health checks on your different systems (Avaya, Cisco, Skype, Verint, Nice, among others.)
IVR Monitoring & Testing
Real-time alerts in IVR, Infrastructure and applications, reports and dashboards.
Voice Biometrics Verification
Voiceprint Validation for authentication
Mobile & Process Verification
Monitor mobile applications, Process, register records
Voice of the Customer
Customer's Journey analysis in the IVR to review selections of clients for optimization.
Stress Test
IVR and applications capacity tests under high traffic volume.
Customer Experience
Automatic Satisfaction surveys with online visibility for results.
Recording Verification
Audit historical or daily recordings to validate compliance with internal protocols.
BASICS
A real-time, non-intrusive and adjustable IVR monitoring solution that verifies your IVR, infrastructure and applications
Emulates the real interactions of customers from the public telephone network and sends alerts in real-time.
Provides proof of encountered problems and performance reports.
DETECTS
Problems with infrastructure & numbers
IVR Failure Response
IVR Response time
Incorrect IVR messages & prompt errors
Silence or large delays with IVR
Application Response
Dead ends and drop outs
Voice Biometrics Verification
Changes in the IVR
ALERTS
Problems with Infrastructure, IVR and Applications.
Wrong date, time, account number, script and step.
Principal Campaign Monitoring Dashboard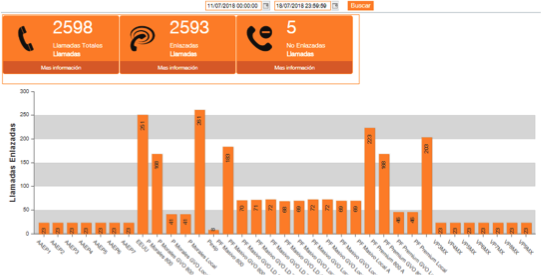 Script monitored by steps: success and failed calls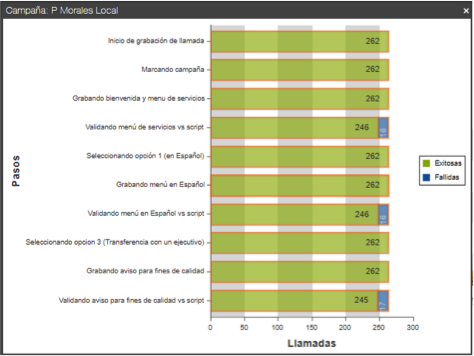 Calls recorded: success and failed by step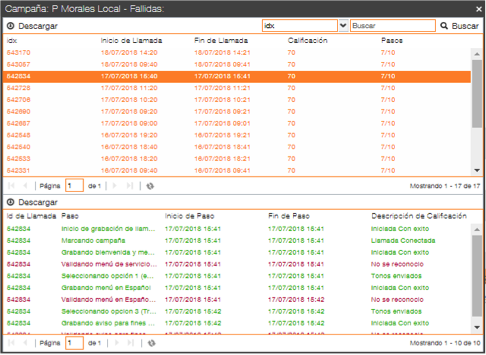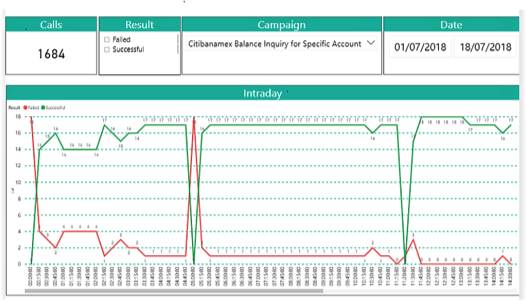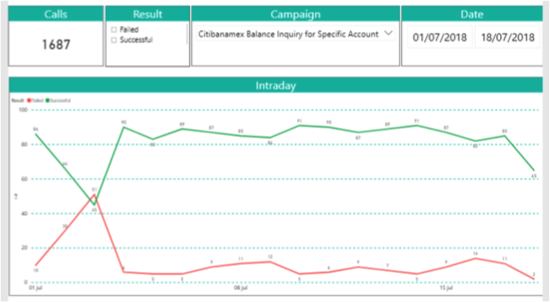 Graphic of Highest Deviation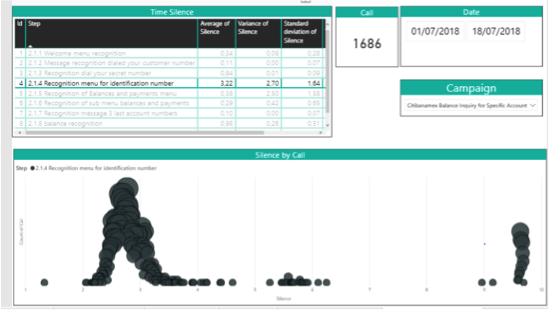 Improves the Customer Experience
Reduce failed calls, IVR errors and applications before client's awareness
Mapping of IVR Changes & Processes
Identify and validate any changes or improvement in the IVR and batch processes
Strengthens Support Areas
Improves troubleshooting alerts with info and online proof
Superior Process And Execution
A PROVEN METHODOLOGY Discover
Project Kickoff,
Project Discovery &
Detailed
Documentation Design
Solution
Architecture,
Integration &
Detailed Design Implement
Solution
Development,
Testing &
Implementation Train
Adoption Planning,
Process
Documentation &
User Education Ensure
Project Followup,
Quality Review,
Client Satisfaction &
Acceptance Discover
Project Kickoff,
Project Discovery &
Detailed
Documentation Design
Solution
Architecture,
Integration &
Detailed Design Implement
Solution
Development,
Testing &
Implementation Train
Adoption Planning,
Process
Documentation &
User Education Ensure
Project Followup,
Quality Review,
Client Satisfaction &
Acceptance