For remote team management, performance problems can't be placed above communication and knowledge of the status of employees and what they need to improve their performance.
The pandemic has generated a new class of customers, with digital purchase and interaction preferences, as well as remote and hybrid work for most employees. But above all, this emerging global health condition brought a rearrangement within organizations: from the business approach, through the methods and means to meet the goals, to the way we relate to each other internally and abroad.
Companies have required to accelerate thoroughly in their technological coupling to be able to adapt, and Human Resources has become one of the main pillars of the organizations' strategy. Therefore, the analysis and resolution of challenges from this area are part of the drivers of success in each organization.
Advantages of managing Human Resources in hybrid and remote work
In HR management, working from home has added benefits. 63% of companies experienced an increase in worker productivity during the third quarter of 2020 thanks to reduced travel times, flexible working hours and the adoption of effective virtual collaboration tools.
In addition, both companies and talent benefit from being able to collaborate without, in many cases, geographic location being a weighty issue in the hiring decision.
Even better quality of health, derived from healthier nutrition and adequate rest times, can be added as an extra benefit that also results in an improvement in productivity indicators.
Throughout engaging in remote and hybrid work, Human Resources areas have learned to generate new ways to measure performance, and have found in technology a reliable and practical means to solve challenges.
Challenges or rather opportunities?
Let's analyze the opportunities that open up with remote work:
Not requiring the physical presence of talent allows recruitment the variety of a fluid workforce, which in turn encourages self-employed or independent workers.
Remote team building can lead to redefining leadership and empowering employees to make data-driven decisions, creating and reinforcing the ability to adapt.
The emergence of new customs in digital work communities opens the way, always taking care of the sense of belonging, to adopt new formulas for group participation, teamwork and integration.
Productivity and technology
Today more than ever, companies must innovate and use data powered by artificial intelligence, analytics and automation to face the impact that the pandemic is having on people and businesses.
Source: Accenture COVID-19 Report
The protection of the physical health of the personnel puts a large part of the employees of a company to operate remotely. This makes implementing new technologies key to offering development opportunities both to your employees and to your own businesses. Deciding not to move towards a digital transformation through the implementation of appropriate technological solutions can cause in the medium or short term that some companies are not able to continue solving themselves.
24% of workers indicated that their companies did not provide them with the appropriate software, especially at the beginning of the pandemic, which negatively affected their production levels.
The new report 'The Future of Work: From Remote to Hybrid' by Capgemini Research Institute, a French multinational corporation for technology consulting services, points out that if companies want to continue to maintain the benefits of remote work and be able to manage employee expectations, they have an obligation to find the right operating model for a more balanced hybrid approach. To do this, managers must question the effectiveness of existing structures and break down barriers between teams and walls between departments.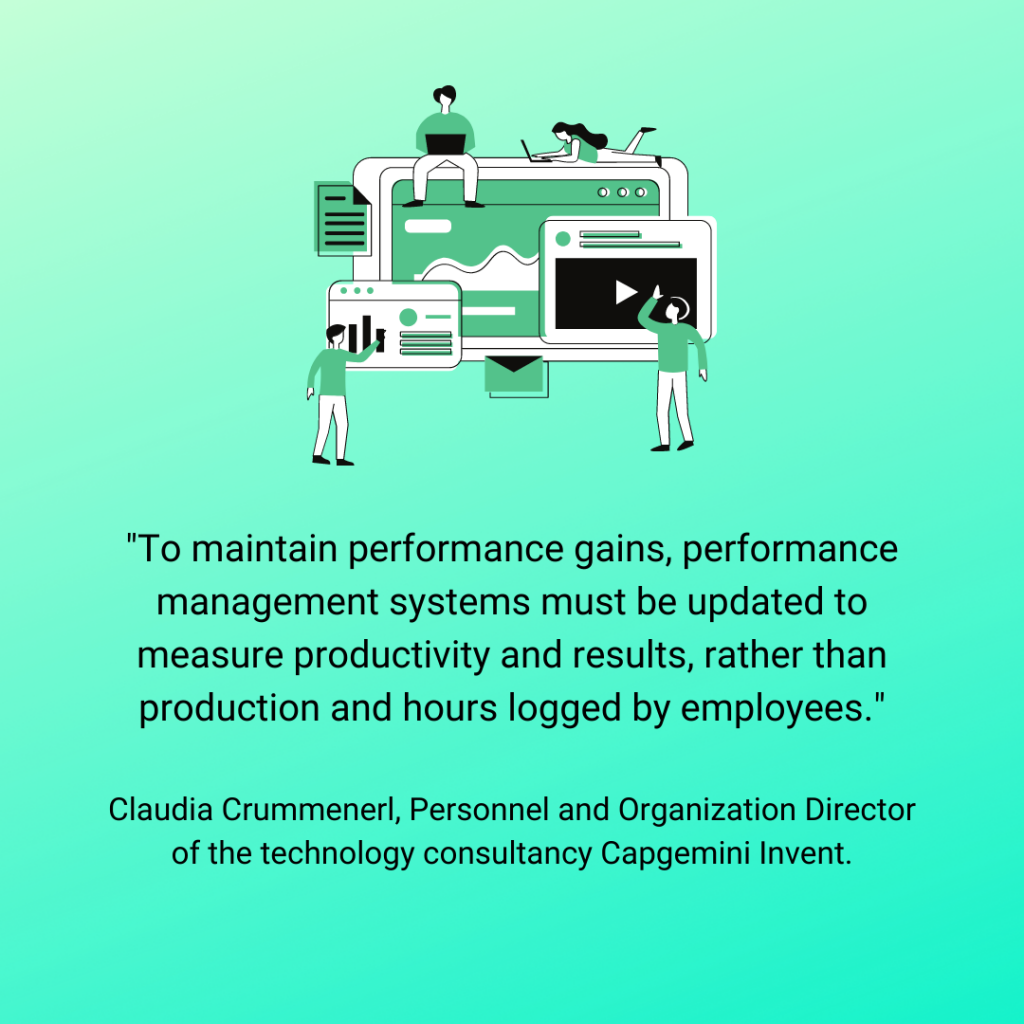 According to this same report, digitization and the use of technologies such as artificial intelligence (AI) have helped organizations experience productivity growth in customer service areas (60%) and sales departments and marketing (59%).
The adoption of a digital infrastructure that offers resilience, agility and scalability should not rest solely with IT teams. Installing a robust digital infrastructure to accelerate digital work that ensures continuity requires investment in employees and in their mastery of new tools.
Technology and systems integration
In this area of ​​opportunity that telecommuting offers to Human Resources management, there are two aspects to consider: the choice of the correct technological solutions and the appropriate integration for a smooth and global transition.
TELNORM's multidisciplinary team of highly skilled professionals is prepared to provide the HR area, regardless of the size of the company, accompaniment in Consulting, Development, Integration and Support of technological solutions and value-added services in all aspects related to the management and optimization of the workforce.
Contact us and let's find the right options for your company.