If you are looking to build loyalty, the first thing to look at is customer experience
Today it has become common to speak of customer experience as a pillar for the growth of a company. However, CX is not a trendy concept or a magic bullet. If you want to implement it successfully and comprehensively, you will have to understand what it is and how it is practiced. In return, to provide a positive experience to customers leads to a lower abandon rate, and this generally translates into higher revenue.
Let's define Customer Experience
How do customers perceive your brand? Everything will depend on how their exposure to it has been. So, CX (Customer Experience) is the total sum of the perception that each person has of your organization.
We can then affirm that Customer Experience is the relationship of the brand with the customer throughout the Customer Journey, that is, before, during and after the purchase.
Thus, a correct CX will result from the ability to see everything your company does and ask yourself how it is contributing to the way customers perceive your brand.
The effect of bad CX
It's no surprise that studies show that more than half of your customers will tend to abandon your brand after just two bad experiences.
For example, let's talk about the mobile experience. If it is poorly designed, 57% of customers will not recommend your brand to their friends, family and colleagues, and 50% of them will stop visiting it, even if they enjoy your products.
Is there a difference between Customer Service and Customer Experience?
Yes there is, although it does exist a relation between the two.
Customer service has a contact role with customers which objective is to answer their questions, to offer routine care after the acquisition of a goods or services and solve any complaints that arise. As such, customer service is a crucial component of CX.
Now, unlike service or customer care, CX is not limited to a single or specific area of the company. It is a much broader concept, because in addition to covering customer service, it influences the product or service, the messages and interactions during the sale and also the subsequent stages, including collection, billing, shipping and support.
CX promotes loyalty
52% of customers say they will pay more for an experience they think is fast and efficient
Once the above has been stated, it is clear why professionals consider CX not as something that is only "control", but as a central concept in everything that the company does and that requires constant measurement.
By understanding customers' expectations of the brand and the results are the main elements for their satisfaction, it is possible to set priorities, reduce churn, and increase loyalty.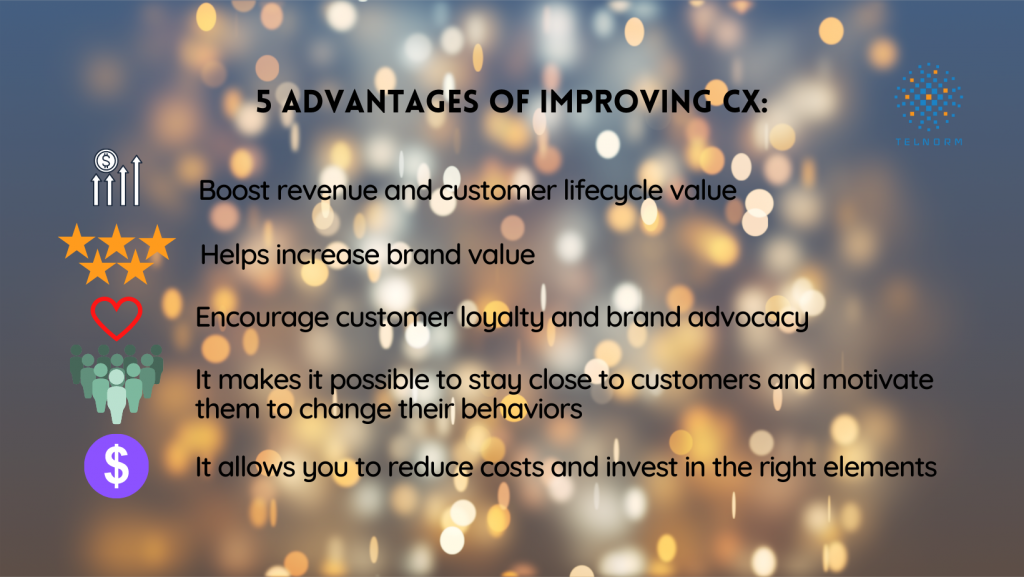 Evaluating your resources in CX
Do your clients have digital options to contact your company? Do you work with a contact center for your customer service, support, sales, or collections activities? Can contact center agents view and respond to multichannel customer interactions in real time? What tools do you have to measure the performance of your customer service in order to improve it? How do you optimize data extraction in order to know and segment your customers, to be able to raise the CX? Do employees in different areas, even if not customer service, understand how their work affects customer experience?
Resources that facilitate improving Customer Experience
One of the reasons countless companies cannot deliver a better customer experience is not understanding the crucial role of using the right tools in CX management. Without these, knowing what customers need and offering it to them becomes almost impossible to tackle.
Artificial Intelligence, Chatbots, omnichannel attention and the architecture of applications by events in time are trends in CX. According to Gartner, 40% of customer interactions will be through AI by 2023.
TELNORM's offer in services aimed at CX ranges from Consulting to the integration of the best solutions worldwide, to go along with our clients towards a digital transformation that makes their business grow.
We are ready to listen to you. Contact us.